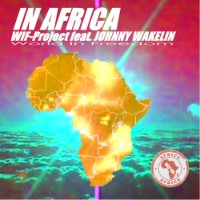 Download
amazon.de amazon.co.uk cd baby
World In Freedom-Project feat. Johnny Wakelin
'In Africa' is an Album that contains songs with a heartfelt message, relating to the tragedy of the underprivileged and the devastation of 'Mother Earth'.
Songs like the title track 'In Africa', 'Wake Up to Reality', 'Pioneers' and 'A Million to One', all carry the message.
It's an album of varying styles, with elements of Reggae, Afro rock rhythms and ainstream rock .
All the lyrics are by the highly versatile 70's chart topper, Johnny Wakelin.
Most of the songs are the result of Johnny working with ace musicians, keyboard player Iain Dunnet and guitarist Dan O'Loughlan at Iains studio in Brittany.

'Henry's Moonshine', 'Universal Man' and 'Sail Away' are a touch of R&B mixed with Reggae and Afro rhythms that will urge you to sing along.
Louis Foster presents this album for the 'WORLD IN FREEDOM Project'.
We hope to collect money to do a little bit to stop the pain and hunger around the world.
The net income will be donated to 'Doctor's Without Boarders', an organization that provides independent, impartial medical assistance in crisis zones throughout the world.
A download of one title or the whole CD is a donation to 'Doctor's Without Boarders'.
Maybe you will need them yourself some day.
Thank you for your download and enjoy the music from 'WIF – Project'.